CVC Peer Consulting Experience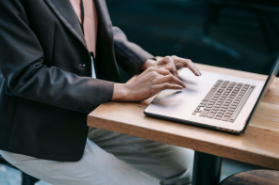 At the end of January, two of my colleagues and I had an opportunity to participate in a Peer Consulting Process through the Twin Cities Corporate Volunteer Council. Our company, RBC Wealth Management (RBC), was selected as the Feature Company.
I still remember when the e-mail from CVC arrived in my inbox announcing the opportunity to apply. RBC Wealth Management had just finished our fiscal year (RBC's fiscal year-end is October 31) and we were beginning to lay out our goals and priorities for the year ahead. I felt like CVC had read my mind – we had a clear path of some of the key things we wanted to do to enhance our programs and usage, but needed insight and best practices to help us get there. Needless to say, I applied that day!
RBC's stated purpose is helping clients thrive and communities prosper and we have a long history of community involvement. We all feel so lucky to have an organization that values community involvement and employees who want to get involved, but we know that we have the ability to take our programs to the next level and create even more impact. My colleagues and I needed help figuring out the best way to create programs that support our corporate values and initiatives, meet the needs of the changing landscape due to COVID-19, and allow for efficient and clear communications and tools that make it easier for employees to get involved.
The three key questions we asked for input and discussion around were:
1. How are CVC members revamping their volunteer programs due to COVID? And, dreaming of a world where we go back to normal, how do member organizations select and facilitate large scale volunteer programs across their employee base?
2. RBC is launching a Volunteer Council. One of the key goals of this council will be to partner with our ERGs and the individuals in our branches around the country so we have more of a coordinated effort for our volunteer activities. We hoped to gather insight from the CVC around 1) structure and best practices in designing a Volunteer Council; and 2) how to partner with ERGs in this effort?
3. RBC is considering launching a new tool to track volunteer hours. Are there any tips and advice on implementing a new tool and helping employees understand how this will benefit both the employee and the company?
 
The feedback we received was invaluable. I can honestly tell you that we immediately incorporated the insights into our plans for the year ahead.
First, many of our peers had created a virtual, hands on volunteer opportunities for their employees (and families) by sending them a Project in a Box, such as creating sock bundles for the homeless or snack packs for underserved youth. What was neat about this project is that it brought employees across the country together working on the same volunteer project from the comfort and safety of their own home. Plus, it allowed these employees to put the kits back into the communities where they live and work. This is absolutely something RBC is exploring and we hope to be able to launch for our employees in the year ahead.
The second takeaway we had was around the creation of our corporate volunteer council. Our peers on the call had some really great ideas about recruiting "champions" and also setting clear job descriptions around their roles and responsibilities. Our peers reiterated how important it is to keep communications clear, concise and easy. They also shared ideas for incorporating our ERGs into the process, including hosting a training around the corporate community programs and priorities so ERG leaders can also serve as champions. Equally, we will make a point to better understand and know the ERGs priorities and goals to determine the best way to enhance our partnership.
Last, but certainly not least, our greatest takeaway was the fact that so many members willingly and generously shared their time and ideas with us. It is truly a testament to the work everyone in the corporate citizenship space is committed to; each of our goals is trying to create programs and opportunities that allow our employees to participate in activities that support the communities where we live and work. The more we work together, the further we will all go in making that a reality.
Share this post: