Volunteer Opportunities: Three Activities
This month, we're highlighting three volunteer opportunities: gardening for Living Well Disability Services, special event volunteers and Meals on Wheels volunteers for Wilder.
A Little Help from Our Gardening Friends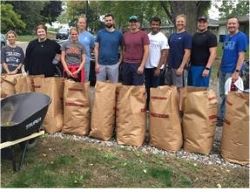 Spring is coming!! Living Well Disability Services is looking for volunteer groups to help with planting and weeding, pruning and splitting, and other general yard clean up tasks. Shifts are about 2 hours with 4-8 volunteers. Plants and materials will be provided (or your group can donate). We ask that you bring your own work gloves and hand tools. We have multiple locations throughout the Twin Cities Metro area. Our homes are typical neighborhood houses with yard and garden space. We will work with you to determine best location as well as schedule a date and time that works best (preferably Mon - Fri). This is a one-time project in late May/early June, with opportunities for summer maintenance as well as fall clean up. For more information or to sign up contact [email protected] or 651-242-5141.
Special Event Volunteers
Wilder is seeking volunteers for our biggest fundraising event of the year, Ordinary Magic, on May 12 at St. Paul College! Ordinary Magic is a fun and inspiring evening raising support for the children, families, and older adults served by Wilder's community programs and services. We need volunteers in a variety of roles, such as registration, coat check, silent auction, bid spotter, and more. You can review roles and qualifications here. Individuals and small groups welcome. To learn more, please email Paige Stein at [email protected] or call 651-280-2460.
Meals on Wheels Volunteers
Brighten someone's day with a meal and a smile! Wilder Meals on Wheels volunteers deliver noon meals to older adults and those with limited mobility in Saint Paul, and routes typically take about an hour. Join us as an individual or team for a weekly role on Tuesday or Thursday mornings. To learn more, please email Paige Stein at [email protected] or call 651-280-2460.
Share this post: