Member Highlight: Comcast
Member Highlight: Comcast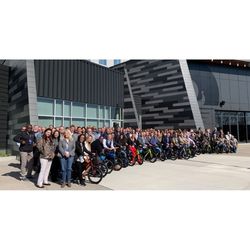 Comcast is grateful to our military community for its dedication to our country. We also recognize their family members who also contribute so much to our country and to our company. Here in the Twin Cities Region, nearly 200 Comcasters demonstrated appreciation by gifting 35 new bikes to local area military kids.
As part of the two-day Comcast Business Sales Leadership Rally, employees participated in volunteer group project to build new bikes for United Heroes League, a locally-based national non-profit organization whose mission is "to keep military kids active and healthy through sports while their parents serve our country."
Teams of three to five Comcasters worked together to build the bikes, which took about an hour, including the actual assembly and the safety check from a mechanic! After the bikes were built, they were delivered to the warehouse at United Heroes League, which stores and distributes the bikes to local area kids from military families. In addition to the kids' bikes, United Heroes League's warehouse includes sports equipment for all sports, from hockey to basketball, and more.
Share this post: