Member Spotlight: Let's Meet Minn Wang
Member Spotlight: Let's Meet Minn Wang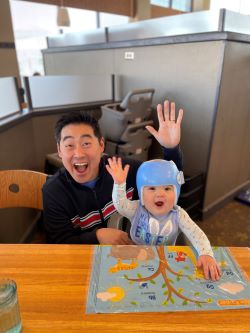 Currently:  Global Impact Initiatives Senior Manager, General Mills
Originally from:  Minneapolis
Currently resides:  Brooklyn Park
CVC Member Since:  2017
CVC Committee Member:  Leadership Development Committee
My First Volunteering Experience:  When I was younger, I was encouraged by my parents to go to Chinese School. I got my first taste of volunteerism at the Festival of Nations here in the Twin Cities.
In addition to my day job:  I've been getting more and more interested in civic duty and public service. This is something that I organically crave and am currently on the Human Rights Commission in Brooklyn Park.
Pets:  I am dog person, and we have a Yorkie Poo (Winnie). However, when I was growing up, I had a pet chicken, and it was one of my favorite pets.
Favorite Team:  Definitely Minnesota Vikings. I follow other Minnesota sports teams, but I'm a glutton for punishment and will always cheer for the Vikings.
Keeping Active:  I'm forever learning to golf and enjoy downhill skiing, but not cross-country skiing—gravity is my friend.
Best Concert:  I was fortunate enough to see Prince in the late 90s.
Secret Recipe:  I make a mean egg and tomato stir fry. It's an old family recipe.
Get to know Minn Wang:
It's a story that's very familiar to many people who end up in corporate volunteerism. This was not the pre-ordained career path for Minn. After graduating from St. Cloud (undergrad) and business school at St. Thomas, he landed at General Mills. CSR as a career was not yet on his professional radar. He spent the first 15 years at General Mills climbing the corporate ladder in various roles that gave him a good outlook on the company as a whole. He got a taste of volunteering at General Mills and decided that going down the service path was the direction he wanted to take. He checked into positions within the foundation, but there wasn't an immediate opening for him to pursue. He kept his eye on positions over the years, and nearly seven years ago a position opened up that he wanted - and the rest is history.
"I really love my job. General Mills has a robust employee engagement program and now I get to help build the programming, support grant making and see how it all impacts employees," he noted. "And it's been great to see how the company and our philanthropy efforts have evolved over the years.
Right now, their small-but-mighty team is focusing on the alignment of their core values—especially coming out of the pandemic. "It's given us a real opportunity to take a step back and pushed us out of our comfort level." They are looking at new ways to engage employees and create strength in their social impact by increasing cross-functional collaboration among all departments while serving both their employees and their respective communities across the world.
"We've actually been working on putting in a Force for Good objective in everyone's individualized development plans (IDPs)," Minn said.  "This helps support the culture at the company and provides a conduit for employees to have greater awareness of volunteering, interact with it more and even provides them with a nudge to get more involved." This is a great concept that we can all learn from. When the company helps support your personal and professional growth through volunteerism and community activism, that's a true win-win.
Minn knows that it's still a work in progress and that it can be a challenge to create a culture during times when there has been restructuring. "We realized that just having the 'if you build it, they will come' mindset doesn't always work right off the bat," he admits. "We're building and implementing some better, more evergreen tools that are becoming more sticky. So, we know there's hope." Sounds like a great plan!
Share this post: