Hope Grows Here – A look at Land O'Lakes Giving Week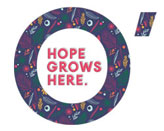 2020 has certainly been a different year than any of us expected, but Land O'Lakes employees still turned out to support the communities in which they live and work for our annual Land O'Lakes Giving Week. This year, Land O'Lakes revitalized our annual giving campaign to incorporate changes to both where employees could pledge donations and how the team raise funds in a fun and engaging (and safe) way.
Land O'Lakes has focused on responsive philanthropy in 2020 and included matches for employee donations to different causes. When COVID-19 first hit early in the year, Land O'Lakes employees responded with 169 donations to 103 nonprofits within 4 weeks. When George Floyd was murdered over the summer, Land O'Lakes employees responded with 223 donations to 9 nonprofits within 2 weeks.
Through these campaigns we learned that employees wanted to support what is happening here and now. Therefore, we opened up LOL Giving Week, the annual campaign, to a variety of causes: 11 eligible matching organizations, which included: Greater Twin Cities United Way, Feeding America, World Central Kitchen, Second Harvest Heartland, The Good Acre, Appetite for Change, Black Lives Matter, Color of Change Education Fund, The Minneapolis Foundation, Center for Economic Inclusion, and Coalition of Asian American Leaders.
These organizations were chosen – with the support of leadership and employees – based on our longstanding relationship with United Way, while also supporting the current and greatest needs of hunger and social justice.
While we made changes to ensure the annual campaign provided more employee choice, the week of fun and morale-building experiences that many employees have come to look forward to did continue as it has in the past! Virtual and social-distance events were a success. We kicked-off the week with a drive-in movie at headquarters in Arden Hills and continued the week with virtual events such as bingo, paint and sip, timed puzzles, escape room, cooking class, online auction and more.
While it may have looked a little different, Land O'Lakes Giving week was nothing short of a success – especially for 2020! While we are still tabulating the final totals, employee participation rates and donation amounts were very similar to previous years.
The theme for the 2020 LOL Giving Campaign was Hope Grows Here – a sentiment that can resonate with many of us today. In these challenging times, our communities need hope, and that starts with each and every one of us. 
Share this post: