Responding To COVID Challenges With Innovation And Generosity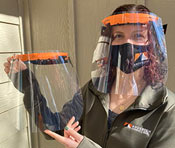 Throughout the global COVID-19 pandemic, Andersen's Research, Development and Innovation team added a new focus: designing, developing and manufacturing critical PPE (personal protective equipment) to support frontline workers' efforts to fight the virus in our communities. This is one of many ways Andersen and its employees have stepped up to help the communities and individuals impacted by the global pandemic.
Andersen has donated over 180,000 face shields to healthcare professionals and first responders working on the frontlines, as well as to the election workers who made the 2020 election possible.
"In times of adversity, the people who work at Andersen rise to the occasion. It's a value woven into the DNA of our company as evidenced as far back as World War II when workers produced wooden ammunition boxes to aid the war effort," said Brandon Berg, senior vice president, research, development and innovation at Andersen.
With input from local healthcare providers including Health Partners, Mayo Clinic and the State of Minnesota, Andersen engineers worked to ensure safety and comfort in the face shield designs. With equipment and materials from Stratasys, Plastic Products Co., Diamond Lake Tool Inc., Nott Company and Rogers Foam Corporation, Andersen utilized the company's 3D printing and injection molding capabilities to create the final face shield design.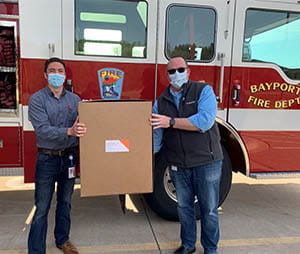 Face shields were donated to healthcare and first responder organizations including:
• Mayo Clinic
• HealthPartners and Regions Hospital
• Bethesda Hospital
• Minnesota State Patrol
• Bayport Fire Department
Face shields were also provided to election workers in Minnesota, Alabama, Georgia, Montana, New Mexico, Ohio, Pennsylvania, Pennsylvania, South Dakota, and Washington.
In addition, the Andersen Corporate Foundation has donated more than $4 million during 2020 to causes including COVID-19 emergency response, racial justice, housing, education, social services, and healthcare.
Giving back has always been a long-held value at Andersen. In good times and in hard times, our company, our employees, our corporate foundation and the Andersen family have made supporting the communities where our employees live and work a priority – and our dedication to giving back has only increased during COVID-19.
Share this post: