CVC Member Spotlight: Julie Greene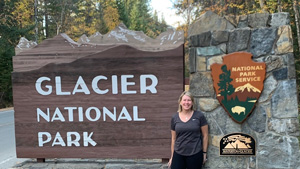 Let's meet Julie Greene from Second Harvest Heartland
Currently: Volunteer Engagement Manager, Second Harvest Heartland (11 years)
Resides in: Stillwater
CVC Member Since: 2020
CVC Committee Member: Marketing & Communications
Favorite vacation spot: Anywhere in the mountains. Recently visited Glacier National Park and the Swiss Alps is on her bucket list.
Cause or nonprofit she supports: Volunteers as an Enrichment Specialist at Feline Rescue in St. Paul providing play and love to the cats while giving insights to the adoption team so they can successfully match felines to their forever homes.
Her alter-ego's profession: Meteorologist. She's fascinated with weather and particularly enjoys a good summer thunderstorm.
Favorite concert: Metallica a couple of years ago. Not only does she love their music, but she also got to meet the band and accept a donation for Second Harvest Heartland from their foundation. Rock on!
Setting out on a career path took a few twists and turns along the way for Julie, but she clearly saw the direction she wanted to take and knew making a difference was very important to her. This eventually led to her current role at Second Harvest Heartland, where the mission is to end hunger locally. "I grew up on a dairy farm" Julie noted "so the idea of feeding people came natural to me, as did my love of animals. We always had plenty of cats, dogs and furry friends around the farm."
Prior to finding her "forever home," at Second Harvest Heartland, Julie began her career working for a variety of nonprofits. She's worked for an HMO, hospital and in education prior to landing at Second Harvest Heartland. With good experience in the nonprofit sector, Julie took an entry-level position at Second Harvest Heartland 11 years ago and has made the most of it. As a self-professed people person, she quickly moved into development and thrived working directly with corporations. "I really loved working in development and for many years got to work hand in hand with many fantastic corporate partners," said Julie. This helped give her a lot of volunteer-facing experience which set her up for her next role at the organization.
A couple of years ago, she moved into a management position as a volunteer engagement manager. Not only was this a great career move, but also allows her to continue her work directly with active corporate partners.
Looking back at her career in nonprofits, Julie doesn't hesitate to state, "You've got to find something that you're passionate about and follow that. Do what's natural." Great advice for someone who lives that motto every day by helping feed people through her day job and working at Feline Rescue. Perfect for the kid who grew up on a dairy farm.
Share this post: