Sharing the Love – Hybrid Version
In November 2021, on the very same day that Subaru announced their own electric car, the Solterra, a different kind of "hybrid event" was taking place across the country for Subaru of North America--their annual employee volunteering celebration.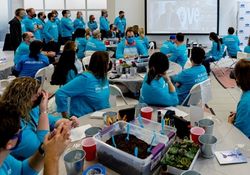 The "Share the Love" volunteering event normally takes place in one location at their headquarters in Camden, NJ with remote employees and teams from their field offices traveling to participate in meetings and join in the celebration of giving back. This year, however, required a different plan. Subaru still hoped to support their local partners in Philadelphia and Southern New Jersey and wanted everyone to feel like they were contributing to the same effort, whether they were onsite, in a regional field office or working remotely.
Give To Get had actually been preparing for just such an event and were excited to put all the pieces in motion. Having cut their teeth on producing impactful in-person volunteering experiences for over 20 years, this past 18 months had forced them into more "inside the box" thinking - literally. Since the start of the pandemic, they have designed and run over 250 hybrid/virtual at-home and small group volunteering programs and kept in kind donations going to nonprofits badly in need of the items that are usually provided by corporate volunteering events. The result was a one-day event that brought everyone together no matter their location.
"They were lucky to plan the event in the November window when COVID concerns were lower and before the omicron variant produced a surge that would shut down future in-person get-togethers," noted Tory Woods, the lead project manager from Give To Get. "They got the timing right. Otherwise, it may have just been another purely virtual event."
Over 300 employees were able to volunteer together onsite in shifts to allow for better social distancing. Eleven field offices across the country gathered in smaller groups (led by local "Champions") and were excited to open their boxes and get to work participating in the same projects that were going on in the huge showroom space in Camden. Those who elected to still participate remotely received individual boxes at their homes joined in the fun. The secret sauce of the whole program was tying it all together by using the video chat technology we've all become so accustomed to using over the past year and a half. The livestream broadcast delivered an impactful message from the CEO who was at the LA Auto Show introducing their electric vehicle that same day and contained valuable information from both their national and local nonprofit partners. The livestream allowed for that "coming together" moment, which has been so elusive in corporate volunteering since the pandemic. Even if that moment is partially on a computer screen.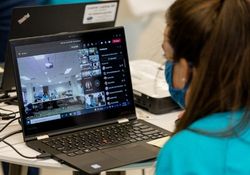 The Twin Cities field offices got into the act by showing off the amazing nesting boxes they built and painted to support wildlife habitats plus the superhero masks and activity kits they created to support pediatric patients and their families. Despite the field office programs being a smaller events for only 10 -20 employees, each market got their time to shine on the livestream. All the field offices took it like a mini competition among themselves to really showcase the good work that they could do and how much fun they could have. Seeing their own good work and also seeing that the same effort was being made in other markets, at-home or at HQ, truly allowed Subaru employees to share some love.
As we all know, planning a group activity or volunteering program couldn't be more challenging these days. Just when you thought it was safe to return to the way you've always done it in the past, another wave of uncertainty can derail your plans. We all just need to keep thinking outside—or perhaps inside—the box. And in some cases—both.
David Musolf
Director of Corporate Partnerships, Give To Get
Share this post: