Xcel Energy 2023 Annual Day of Service
Xcel Energy employees in their annual Day of Service on September 8-9, 2023
Serving the communities where we live, work and play is part of Xcel Energy's core values. On Sept. 8 and 9, more than 2,500 employees and community members put good energy into action at the company's 13th annual Day of Service. For the third year in the event's history, projects took place in all eight states the company serves: Colorado, Minnesota, North Dakota, South Dakota, Wisconsin, Michigan, Texas, and New Mexico.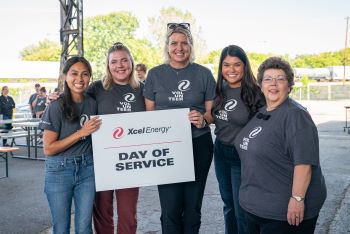 Volunteers worked together to make a positive impact for our communities and neighbors by participating in 125 nonprofit projects, including organizations like Habitat for Humanity, Girls Inc., and United Way. From landscaping and painting to assembling care packages and making blankets, volunteers contributed enough hours to equate to approximately a $230,000 economic impact, according to Independent Sector's 2023 value of volunteer time. Volunteers packed more than 175,000 meals, assembled school supplies for 6,000 students and cleaned up acres of land, trails and park systems.
"Having Xcel Energy volunteers doing a job for us is priceless. If we did not use their volunteers, we would have to pay for this service," said Angie Goettl, assistant director of Hallie Q. Brown Community Center in St. Paul, Minnesota.
Day of Service, which was created to pay tribute to the victims, survivors, and first responders of 9/11, continues to expand its impact across the company and offers Xcel Energy employees a special opportunity to connect with their colleagues, community members and customers.
Share this post: