CVC-TC Corporate Members Mentoring Minnesota Students
CVC-TC corporate member companies mentored over 2,500 Minnesota high school students through BestPrep's Cloud Coach and eMentors programs last school year.
This year, the impact is expected to be even greater as BestPrep adds an 8th high school to their Cloud Coach program. In the coming months, Humboldt High School 9th graders will be exploring their interests and preparing for their futures with support from UnitedHealth Group and Best Buy volunteer mentors.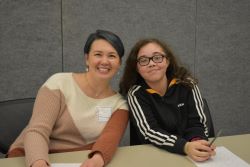 Teachers appreciate the unique opportunities that mentors can provide to their students. One teacher shared about his students' recent experience working with Cargill mentors. He explained, "the chance to take healthy risks helps students grow. This program covers this and allows students to grow." Students also recognize the impact of these programs. After working with a mentor from Securian Financial, a Washington Tech High School student shared, "Cloud Coach has helped improve my self-confidence by not being afraid to ask questions."
Cloud Coach and eMentors are both online mentoring programs that match high school students one on one with volunteers from local companies. Mentors share their experience and expertise as a working professional with students who are exploring their career interests. In this experience, students learn about communication, goal setting, motivation, and much more. The highlight of the program for everyone involved is a visit to the mentors' workplace where students and mentors connect face-to-face and participate in fun activities together.
BestPrep needs additional company partners to support the growing demand from schools for large group mentorship experiences.
Please contact Julie Anderson, Director of Mentoring Programs, at [email protected] for more information.
Share this post: